Commercial Cleaning
Kenthurst
Which Service Do You Need?
Ultimate Commercial Cleaning In
Kenthurst
If you want to remove germs and grime from your commercial property properly, hire us now
Exact Commercial Cleaning Services In
Kenthurst
You get your office, and commercial property cleaned every now and then but is your current cleaning routine serving the purpose right? Most of the time, cleaning is done only ensure the removal of top-level dust. Commercial cleaning in Kenthurst, not to forget the cross-contamination that happens when the correct cleaning procedures are not followed.
The ideal situation is when cleaning services remove dirt and bacteria from the surface thoroughly to provide a healthy and germ-free environment to the people using that area. A capable commercial cleaning in Kenthurst can guarantee to solve this problem by using state-of-the-art technology, trained cleaners, and tried and tested cleaning methods that can cater to your premises.
Commercial and Office Cleaning In
Kenthurst
JBN Cleaning's commercial cleaning in Kenthurst guarantees that you and your employees will feel a refreshing change all around your premises after we are done cleaning. We have diligently given years to culminate safe cleaning procedures that ensure the right cleaning solution for each client we work for. Furthermore, we regularly perform on-site quality control inspections to maintain superior work standards.
Clear Inspection Checklists
To ensure that our office cleaning in Kenthurst doesn't leave any spots unattended at your site, we have a cleaning checklist at every job. Through these checklists, we can double-check their work and put in place a rating system to grade their work quality for each item on the list.  This helps us understand where our crew tends to overlook things and know the areas we need to give more attention to on your commercial property.
We are always on the lookout for new ways to optimize our processes. One aspect that comes first on our list is to procure the most advanced technology in the cleaning industry. We understand how the right tools and equipment can reduce the time needed to complete processes, simplify operations, and free up employees' time for more critical tasks that require manual care. That's why we have the cutting-edge technology to clean your premises thoroughly.
Your janitorial bills might be a pain in the pocket, and you can hardly do anything about that since you can't ignore the daily cleaning no matter how much you wish to. With commercial cleaning in Kenthurst, you can rest easy as we give the most optimal quotations to you. We charge only for the services you opt for, and because we customize your cleaning plans, it leaves no room for overcharging.
Serving Australia for more than a decade, we have the adequate experience and relevant know-how to give the right custom-made cleaning solution to you.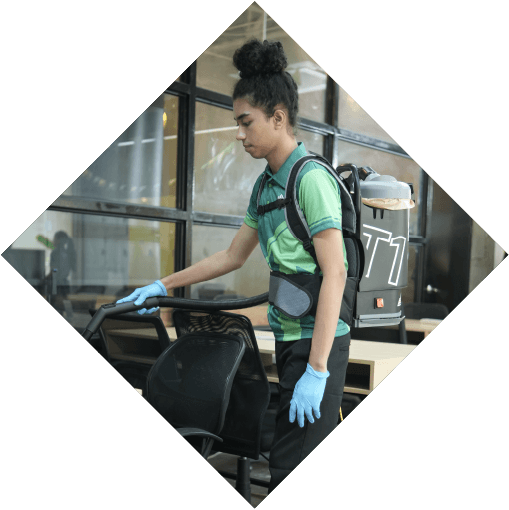 We Offer Client-Focused Office Cleaning In
Kenthurst
From the moment you call us to know about our cleaning services, we give you, and your cleaning needs an utmost priority. Your business matters to us, and that's why we listen to you and empathize with your concerns. After we've had a good chat with you, we derive a cleaning plan that perfectly suits your space. Providing you with a customized cleaning map is what we do best, and you can trust us to deliver the most refined results for you.
As a professional cleaning in Kenthurst, we know that the details matter. People rely on us to keep their workplace clean and healthy. We also acknowledge how you keep your trust in us to look after everything, from the most apparent germ collection to the little places where grime builds up. That's why we don't entertain any sloppy work from our cleaners and provide them with professional training to leave no room for error. Furthermore, all our commercial cleaners in Sydney go through a proper screening process to ensure they are serious about their jobs. We check their backgrounds, and they go through police checks to shield you from any mishappenings.
Commercial Cleaning Services In
Kenthurst
Whether you're operating a single office, or you are the owner of facilities like a medical center, child care center, factory cleaning, worship center, industrial area, retail store, warehouse, or commercial establishment, we can help you create the best first impression on your employees, guests, and customers.
A clean and spotless-looking space says a lot about your business. Be it shining strata, glistening windows, or clean carpets; people notice these areas sub-consciously in their minds. You might not want to look bad in front of your prospective clients and employees. Don't worry though; we will take care of your premises like our own and leave them looking absolutely clean.
Choose Us For Commercial Cleaning In
Kenthurst
We have a long list of reasons that can make you choose us as your cleaning partner. We use only biodegradable and eco-friendly cleaning supplies to maintain a healthy environment in your space. You'll come across the most friendly cleaners while working with us. We arrive on board with a vast experience that we hold in the cleaning business and we are a fully insured commercial cleaning in Kenthurst. The list can go on and on about how we can serve you the best when cleaning your commercial property.
We work diligently and with a detail-oriented eye to clean the areas that can enhance the visual image of your business. Your reputation is our reputation, and trust us; we will never let you look bad in front of your employees and clients. 
Our Commercial Cleaning Clients Review
FAQ'S: Commercial Cleaning Kenthurst
Your commercial cleaning in Kenthurst matters. We understand why you might be having so many questions before you hire a cleaner for your requirement. You'll find some of the common questions and answers listed here!
How far ahead should I book a commercial cleaning appointment in Kenthurst?
We generally ask for a window of 24-48 hours before the actual booking time. This way, we have enough buffer time to arrange for enough cleaners for your property along with other arrangements that we have to do before coming to your premises.
How frequently do you clean my office in Kenthurst?
We can come to clean your property when you want us to. You decide whether you'd like us to come daily, weekly, quarterly, or monthly; we'll accommodate our schedule as per your needs.
What if I have some special instructions for the cleaners you send my way?
Our commercial cleaners in Kenthurst are always available to listen to all your special demands and needs. Let us know all your additional requirements a little in advance so we come prepared with the tools and cleansers that would suit the job required to do.
You are most welcome to share your experience with us. For this, we delegate a manager who is available 24/7 to listen to your complaints and queries. He/she will fix the problem on priority. Alternatively, you can share your feedback with us by calling us on +61 2 9188 5449, and we'll help you with your concerns.
Do you offer cleaning for restaurants and hotels in Kenthurst?
Yes, we offer all types of commercial cleaning services in Kenthurst for all kinds of public areas, restaurants, and hotels, being a part of that list.
The Only Christmas Cleaning Checklist You Need For Holidays! Christmas is fast approaching, and your […]
Read More
Hiring us for your daily cleaning needs is a big decision, and we'd like to help you further with it.
Other Services By JBN Cleaning
We have a range of commercial cleaning services that can cover any cleaning requirement of yours. Check our offerings here!
Make way to a productive workspace that is lean, safe, and completely hygienic with JBN Cleaning.
Boost your employee productivity multiple times by cleaning every corner there is to perfection.
Clean everything from your panes to the exteriors and interiors altogether with our expert services.
Choose the safest cleaning company for all your sensitive requirements. We've got your back!
Don't sweat out on cleaning. Our experts can seamlessly do that for you and give your gym a vibe of motivation.
Your cleanliness matters a lot more than you think if you want to create a safe picture in the hearts of your patients.
Maintain your spiritual outlook through a perfectly maintained premise. JBN cleaning can do it for you.
Say no to dusty or damaged carpets. We are a name you can trust that stands out from all others in Sydney.
Let's welcome your guests with a fresh picture. Clean all your common space at extremely low costs.
We are here to help you shine all day, every day. Hire us today to see the difference that we bring!
Having problems with cleaning heavy-duty machinery? No problem, our experts are just a call away.
Bigger spaces, bigger demands. Avail of economically viable packages with high-quality results.
Cities We Have Serviced So Far